A 'Day for the Children'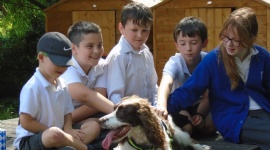 Our 'Day for the Children' was a great success. The children were really celebrated and they all had a wonderful time taking part in many fun activities - swimming, disco, baking, sports, art plus a visit from the Dog Rescue Team.
One little one said,
"Mrs Cawthra , thank you for today, I don't want it to ever end!" .
Special thanks must go to Laura Harding for all her amazing support and organisation of the Dog Rescue Team and the band of volunteer Mums, and their activities, without whom we could not have managed today. FoLS also bought the children an ice lolly /ice-cream at the end of the 'special' day! THANK YOU!