Excellent result by Longparish Hockey Team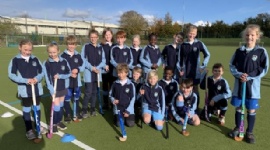 There was a great atmosphere at John Hanson School for the Rural Schools Hockey Tournament. There were four pitches and teams were in different pools. Longparish had two teams.
In the first round, Year 6 won all their matches and progressed into the top tier in Round 2. Year 5 were unfortunate but played their best against strong opposition.
In Round 2, Year 6 won all their games—it was a tough round though!
In the final, Longparish Year 6 lost 2-1 but got a medal for 2nd place.
It was a great day! Well done Longparish!