Comic Relief Day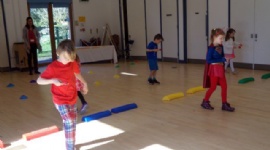 All pupils took part in a fun day of activities and competitions all in aid of Comic Relief. The red nose and spoon races were particularly enjoyable and a little bit tricky! The quiz and hunt the noses also went down well with the children. The final activity of the afternoon was to create the longest line of coins. The longest was St David's House whose line measured at 28.9m!! In total the lines made a total of £123.
The bake sale after school was a huge success – thank you to the ladies who helped out on the stall – it was much appreciated! Then, with the donations for wearing red or dressing as superheroes and taking part in the activities we raised just over £270. We are still receiving donations, so this may still even increase!
Well done Longparish!!!