Courageous Advocacy
At Longparish Church of England Primary School we have a strong emphasis on encouraging our pupils to become courageous advocates, not just locally, but nationally and globally.
We recognise that life is full of ups and downs and that at times all people will face challenges that they need help and support in overcoming.
"Speak up for those who cannot speak for themselves, for the rights of all who are destitute. Speak up and judge fairly; defend the rights of the poor and needy." Proverbs 31:8-9
Within the community our school stands up for what it believes in. Our Christian Values of Friendship, Trust and Excellence, alongside the British Values (Rule of Law, Tolerance, Democracy, Mutual Respect and Individual Liberty) ensure that opportunities to discuss current world issues, to challenge injustice and to engage in activities that can bring about change are always present.
Such as:
Remembrance Day - £196 raised in November 2022
Politics – voting in our House Captains
School Council who seek the views of pupils as to which causes we want to support;
NSPCC – all children received NSPCC 'speak out, stay safe' training
Head Teacher writes in the local Parish newsletter and local papers to reach out to the community.
We understand that life can be challenging at times and that all people, including friends, family and global citizens will face difficulties that they need help to persevere with in order to overcome them. We aim to inspire courageous advocacy and instill our Christian Values in the whole Longparish community. To ensure that we, and our community give, inspire and flourish together, we have been and are supportive of a range of charities in our local area, nationally and globally. Some of these include:
Christian Aid
Andover Food Bank – In October 2022 our new house captains went to visit the food bank to find out for themselves what they do to help support those in need in the community. On returning to school they spoke to the school in a collective worship and they briefed the school IT Ambassador to make a poster so that everyone knew the importance of donating food for the upcoming Harvest Festival. The result was that more food than ever before (the equivalent of 325 meals) was donated. The House Captains now intend to organise another donation at Easter and in the summer term.
Children in Need - £364 raisd in 2022
Comic Relief
Sports Relief
Mityana Projects Trust (Uganda)
Red Nose Day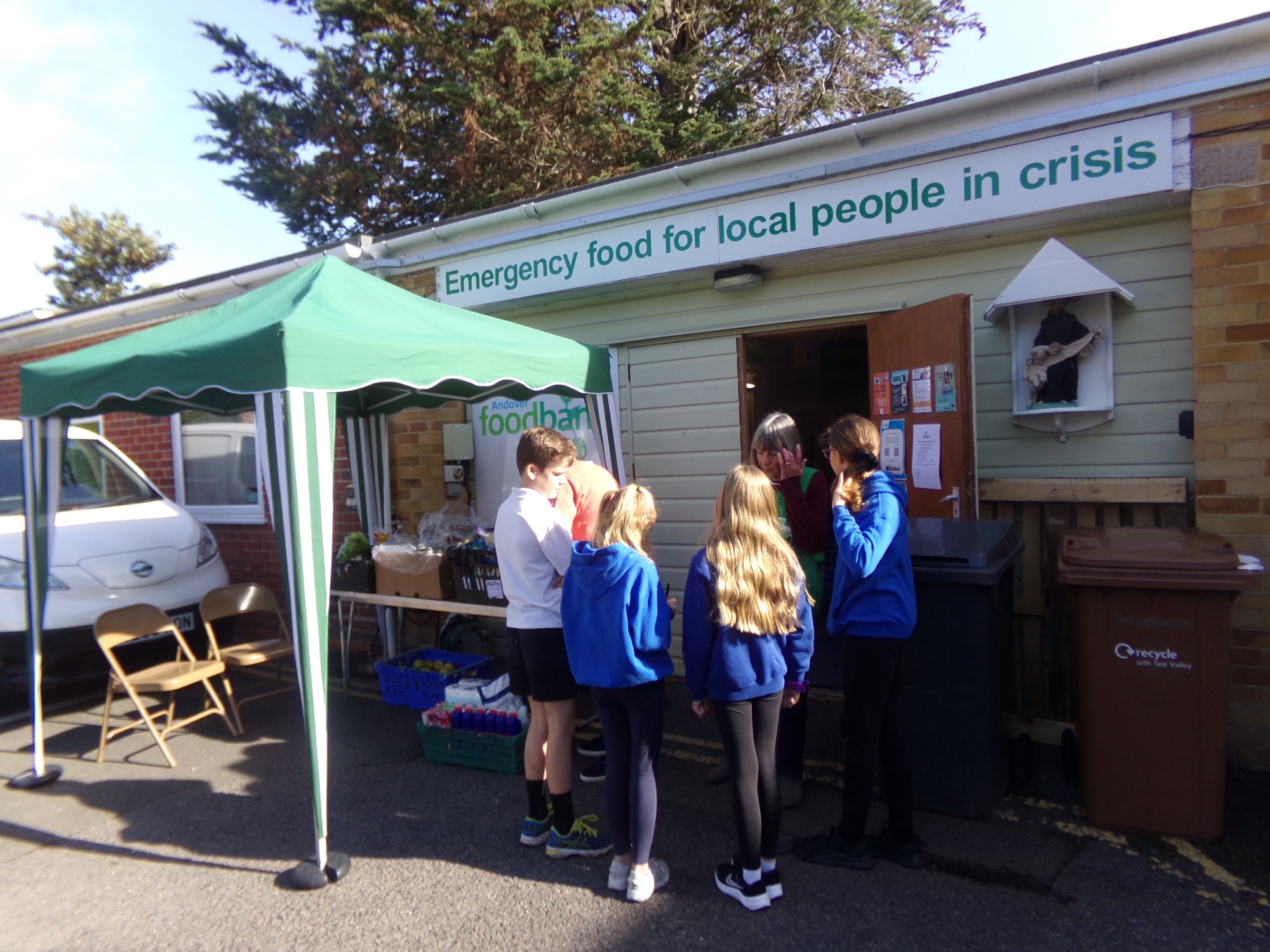 Our children have a good understanding of the meaning of belonging to a local and global community and the sense of responsibility that comes with belonging; therefore developing their ability to empathise and make a small sacrifice to benefit others. Together we consider the beauty and fragility of our environment, the actions we take, and the impact these actions may have on the well-being of everyone. Our school community and curriculum actively embraces a responsibility for the world in which we live. We are diligent to show our connection with, and care for, the world in which we all live and care for the people who live in it:
Longparish Clean up day – Children from school volunteered to help on 'Village Clean up day' in October 2022
Links with local care home – including visits at Christmas time to Carol sing.
Joining the village lunchtime club to share in the enjoyment of musical concert
Developing links with our newly twinned school in Rwanda
Developing links with schools locally, nationally and internationally (to learn about the similarities, differences & how we can help support/develop each other through these).
Strong PTA with community events such as Christmas and Summer Fayres, discos and film nights;
School advertises and supports local events;
Strong links with Longparish Little School